The 2018 Nissan Titan near Atlanta Dominates the Competition
A symbol of strength and durability – the 2018 Nissan Titan is built for any challenges to put in its path. On-road or off-road, towing or hauling, this truck was built with sturdy materials and engineered with powerful machinery to give drivers exactly what they are looking for. The interior of this truck was given due attention as well, evidenced by the comfort and space afforded to everyone in the cabin. If you are interested in getting an up-close view of the Nissan Titan near Atlanta, look no further than Nissan South in Morrow. We have a large selection of new and used Nissan cars, trucks, and SUVs, including the new 2018 Nissan Titan!
Comfort and Versatility are Hallmarks of the Nissan Titan
The amenities within the cabin of the 2018 Nissan Titan will enhance your drive in every respect every day. For example, if you find that the weather is either frigid or blistering, worry not – the Remote Engine Start System with Intelligent Climate Control will change the temperature to your liking. Even better, the Titan can defrost the windshield and windows and turn on the heated steering wheel and outside mirrors before you ever step foot in it! In addition, you will have access to steering wheel-mounted controls for easy access to audio features and cruise control. These controls will allow you to keep your eyes glued to the road at all times. Furthermore, a lockable rear seat cargo organizer will open to reveal a multitude of bins for you to store your valuable items in a secure place. Further still, a deep center console is so large that you can fit a small laptop inside! Finally, Push Button Start comes standard, so you can forget about the days of fumbling in your pockets for your keys. Visit Nissan South in Morrow today and talk to one of our sales representatives on the many possibilities waiting inside the 2018 Nissan Titan.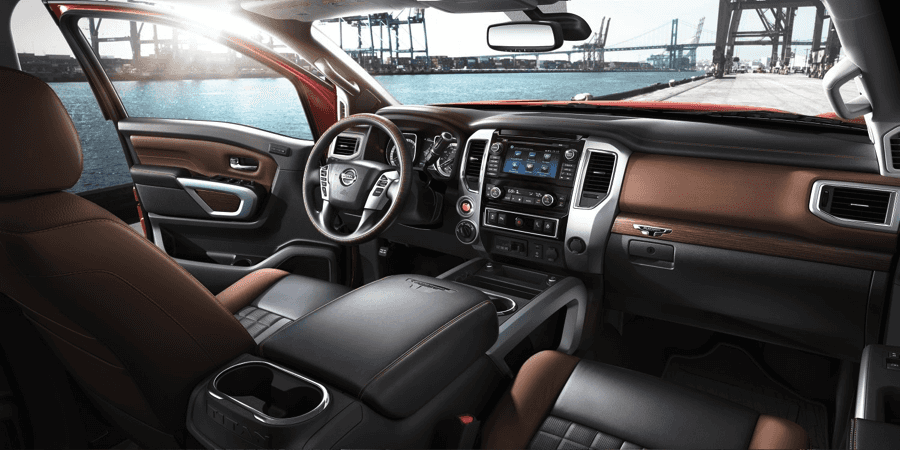 Technology to Enhance Your Drive
The 2018 Nissan Titan comes with a slew of technologies that will keep you both safe and connected to the world around you. Firstly, Nissan Intelligent Mobility gives you greater awareness on the road. Blind Spot Warning, Front and Rear Sonar System, and Rear Cross Traffic Alert are all features geared toward alerting you to the actions of the vehicles around you. This system is married to an advanced navigation system with connected technology. Multiple power outlets, a premium audio system, and Bluetooth® hands-free calling all serve to make your drive much more enjoyable. The 2018 Nissan Titan gives you this and much more, as this only scratches the surface of what it has to offer in terms of technology!
The 2018 Nissan Titan Delivers Unyielding Performance
Let's get right into it and start with the Titan's foundation; a high-strength, reinforced, fully boxed, steel frame provides a constitution that will serve you with many years of rugged performance. Moving on to the more minute components, an upgraded differential, huge 13.8" front/13.6" rear, 4-wheel ventilated disc brakes, and double-wishbone front suspension make for incomparable performance time and time again. The true heart of this machine is the Direct Injection Gasoline engine, though, which has a 4-valve-per-cylinder design. Combined with the Variable Valve Event and Lift Technology, the Nissan Titan delivers superior power and efficiency. All of these achievements in engineering equates to astounding towing and hauling capabilities. What's more, a Tow-Haul Mode will help reduce hunting for hears and offer smoother and more confident towing performance.
Nissan South in Morrow has the 2018 Nissan Titan near Atlanta
Nissan South in Morrow proudly provides excellent customer service and a full lineup of the very best of what Nissan has to offer. When you visit our dealership, you will be given personalized service and a low-pressure buying experience. The 2018 Nissan Titan gives drivers everything they would want in a truck, and we can help you find the Titan with the right specifications. Visit us today and get the 2018 Nissan Titan near Atlanta!